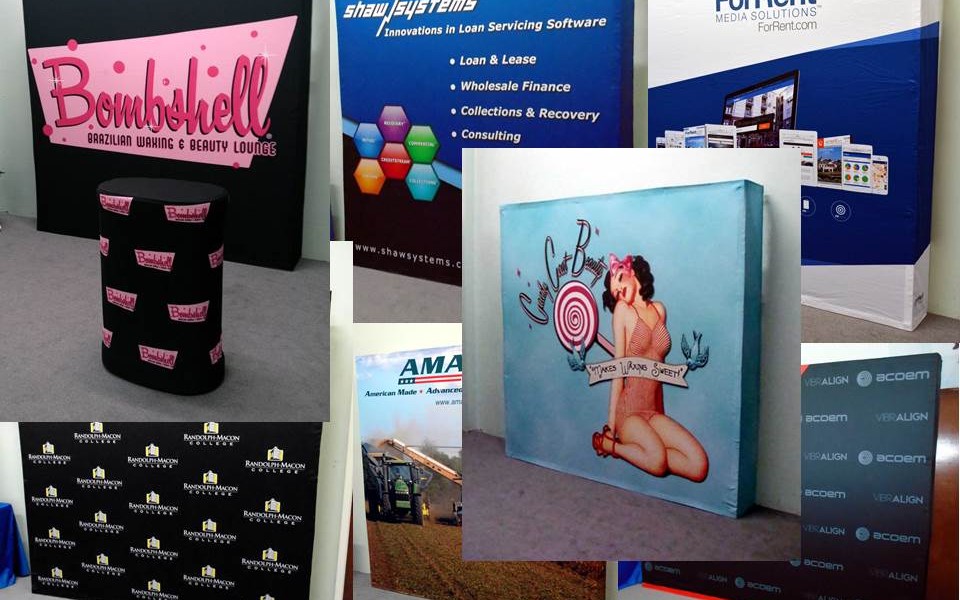 Tension Fabric Pop Up Displays
To say we really like producing tension fabric pop up displays for our clients would be an understatement! We think this style of trade show display is an excellent choice for the seasoned trade show warrior or for someone wanting to attend their first trade show.  Unlike traditional pop up trade show displays with magnetic channel bars, mural and fabric panels and rolling graphics in a ship case, these lightweight displays have one large graphic that stays on the frame at all times and the entire display fits in a carry bag!That's right, no need for heavy ship cases and shipping fees.
What makes tension fabric pop ups unique is the fact that the graphic is printed on a cotton material that is lightweight and very durable and can even be washed if stained.  This style of graphic means a more cost effective option for your next trade show display purchase and replacing the graphics are a snap and a fraction of the price of a traditional pop up mural panel.
You can get one of these displays in a table top size that weighs only 19lbs or 8′ and 10′ floor models.  Of course if you'd like a kit that includes a ship case, lights and case to counter conversion, those are available as well.
Before we forget, the best part about having a tension fabric pop up display is the set up time.  If you have only 5 minutes to set up your display, you might end up with a couple to spare.  Find that hard to believe?Click here for a set up video.