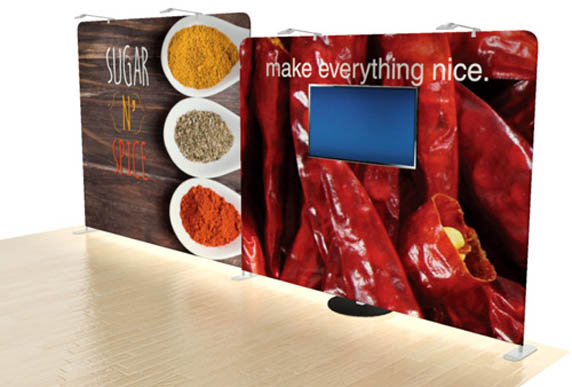 Dimensions Portable Tension Fabric Displays
We're very excited to introduce the Dimensions line of tension fabric trade show displays. The tension fabric style trade show display has become very popular because of its' ease of installation, lightweight frames and great prices.  The Dimensions line takes that a step further with 25 designs to choose from available as kiosks, 10′ displays, and 10′ x 20′ displays and each has it's own unique design and shape.  What also makes these different from other portable tension fabric displays is multiple smaller frames are used in the designs which provide a modular element enabling you for the first time to purchase a larger display that breaks down into smaller sizes or even mix and match your design.
Some key features of the Dimensions Displays are:
Ship cases included with each display
Modular frame designs enable you to have multiple configurations and sizes
Mix and match capabilities
Built in TV stands on some designs
Assembled and printed in the USA within 5 working days
Click HERE to learn more.