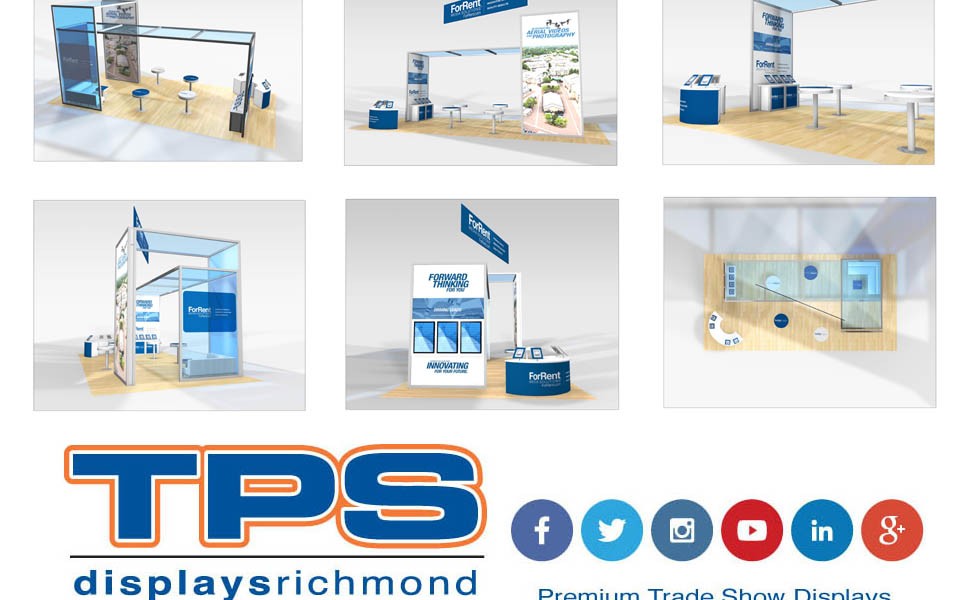 Island Trade Show Rental Design
This island trade show rental design is currently being built for one of our clients and has many unique features.  The main objective was to fill the 20′ x 40′ exhibit space with a contemporary design that had a lounge feel for causal engagement with existing and potential customers.  To create a free flowing design, large printed sheer fabric graphics were used on the some of the walls and ceiling structures.
A new and very popular element used in both smaller displays and larger exhibits like the island trade show rental design is the use of backlit graphics.  This island boasts a huge 18'h x 8'w double sided lightbox sure to attract attention from a distance.  The lightweight and durable aluminum design allowed for the lightbox to have a small footprint, not taking away from the much needed floor space.
Some additional modern design elements like vertically mounted LED TV's, iPad stands built into counter tops and charging tables with 8 USB ports are placed throughout the design.  In the lounge area, there's even a coffee table converted into a charging table and all of these tables have been covered with the client's logos.
In addition to building the island trade show rental design, we will also handle all of the logistics for this client.  A turn key trade show rental includes coordinating the round trip freight, storage, exhibit labor and flooring in addition to just the exhibit rental. Be sure to check back and look for pictures of this display at the show.
Features:
20′ x 40′ rental exhibit
Double sided 18′ x 8′ lightboxes
Printed sheer graphics
Counter top iPad stands
Large reception counter
20′ x 8′ double sided hanging sign