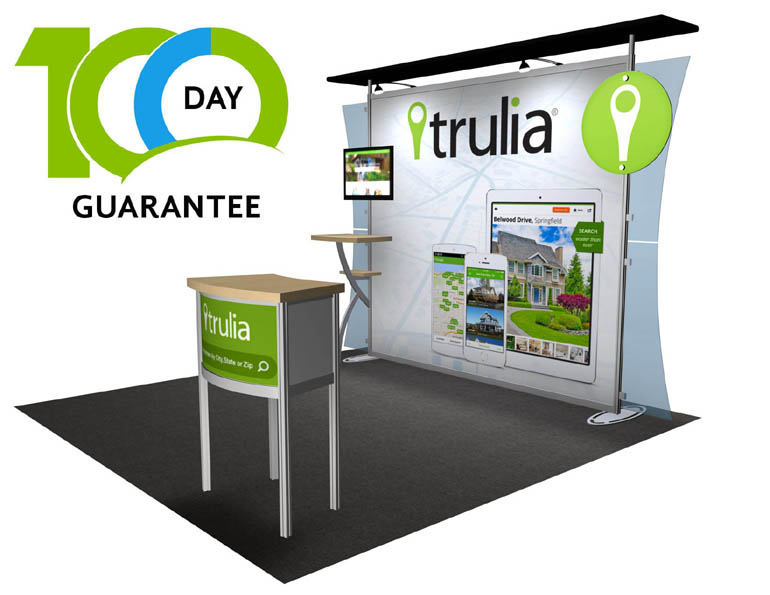 100 Day "Love it" Guarantee
Having been in this industry for over 16 years I thought I had seen it all until our friends at Classic Exhibits did something unheard of  with a trade show display.  They have included an industry exclusive "Love It Or We'll Take It Back" 100 Day Guarantee on over 60 of their hybrid modular displays. Now, we've all heard our displays have a warranty for damage for "manufacturer's defects" but this isn't that at all.  Of course it has a lifetime hardware warranty but this isn't a warranty, it's a guarantee you will love this display or return it!  That's right, the 100 Day "Love It" Guarantee will let you return the display within the first 100 days after purchase.
What's not to love about these displays?  They are affordable hybrid displays meaning they aren't pop ups or tension fabric tube displays but high quality contemporary portable displays with vibrant tension fabric graphics and accessories.  Accessories like monitor mounts, iPad holders, literature pockets, graphic headers, canopies are available and they just look cool.  These hybrid displays are also available in table top, 10′ x 10′ and 10′ x 20′ configurations.
In addition to all of those great options, all of these displays use quick knob assisted assembly which drastically cuts down on set up time and the need for hand tools on all  basic backwall designs. Rounding out the features on these outstanding displays is all of the 60 designs ship in rugged molded cases with custom cut foam interiors to help ensure your display arrives safe and sound and those cases can ship via UPS or FedEx.
Features:
Upscale affordable designs
Numbered components for easy set up
knob assisted assembly
Reconfigurable
Vibrant tension fabric graphics
Multiple accessories
Rugged molded ship cases
Click HERE or HERE to view these outstanding designs.