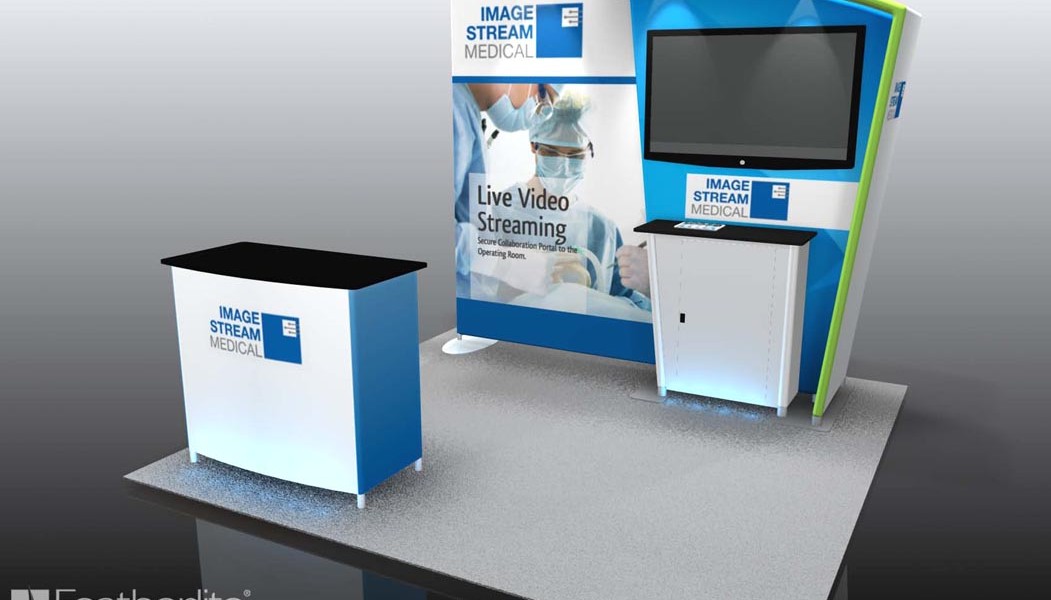 Featherlite Exhibits
In a continuing effort to offer the highest quality trade show solutions in the industry, we're proud to announce we've partnered with Featherlite Exhibits to enhance our growing line of tension fabric and modular displays.  Featherlite Exhibits has been a leader in the design and fabrication of lightweight, cost effective, and high impact trade show displays since 1964 and do some amazing things with tension fabric not seen by any other manufacturer.
Featherlite Exhibits manufacturers lightweight, portable and modular displays primarily combined with aluminum frame structures with unique shapes which assemble effortlessly without tools and washable tension fabric pillowcase graphics.  These unique trade show displays range in size from table tops all the way up to island displays and every design can be reconfigured into a different size.
Tension fabric displays aren't new to the trade show industry, but unlike other manufacturers, Featherlite Exhibits has perfected the tube frame design and added a more robust and stronger frame capable of holding large LCD TV's, canopy structures, shelf units, continuous backwall structures and rigid accent graphics.
Some of the other key features of all Featherlite Exhibits:
Most 10' x 10' kits pack into 1 case and weigh less than 60 lbs. 10' x 20' kits less than 140 lbs.
Tool-less designs using spring buttons, snap on clamps and zippers reduce assembly time
All designs can be reconfigured with little to no additional pieces or graphics
Tension fabric graphics can be printed on both sides with alternate messages
Numerous accessories including shelf kits, large TV mounts, rigid graphics, counters and more
Click each of the sizes below to view some of these modular designs:
Table Top Displays  10' x 10' Displays  10' x 20' Displays  20' x 20' Displays