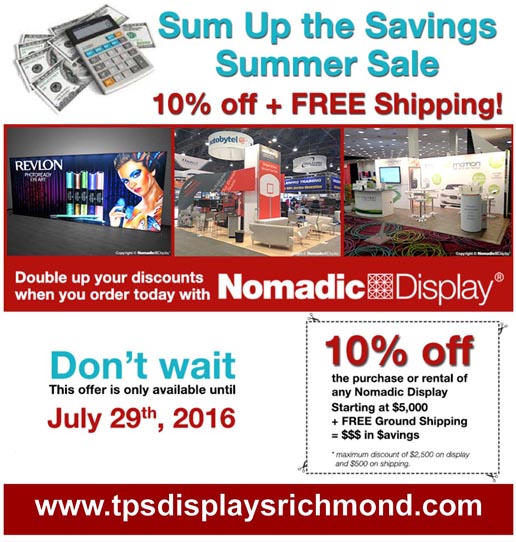 Summer Savings Sale
Save 10% and receive free ground shipping on your next purchase from Nomadic Display.  The Summer Savings Sale ends on July 29th, 2016 and includes all trade show displays and rental displays starting at $5,000.00.  If you're thinking about purchasing a new trade show display for the fall season, this is a great opportunity that doesn't come around very often.  The best news is any product from Nomadic Display is eligible for the Summer Savings Sale with a retail price and up to $25,000.00.  If your next trade show or event isn't until early fall, no worries, your new display just has to ship by August 30th, 2016 to be eligible for the Summer Savings Sale.
Check out some of the different designs eligible for this promotion(click each name for catalog):
 Inspire  Lightwall  Envision  Modular
or click HERE to see all displays that qualify.
The requirements for the Summer Savings Sale are pretty simple:
Any single display or rental display purchase over $5,000.00 up to $25,000.00 is eligible
10% discount based on retail price
Order must be placed by July 29th, 2016
Order must ship by August 30th, 2016
Maximum discount amount $2,500.00
Free ground shipping included up to $500.00
Display will ship from Springfield, VA  22151