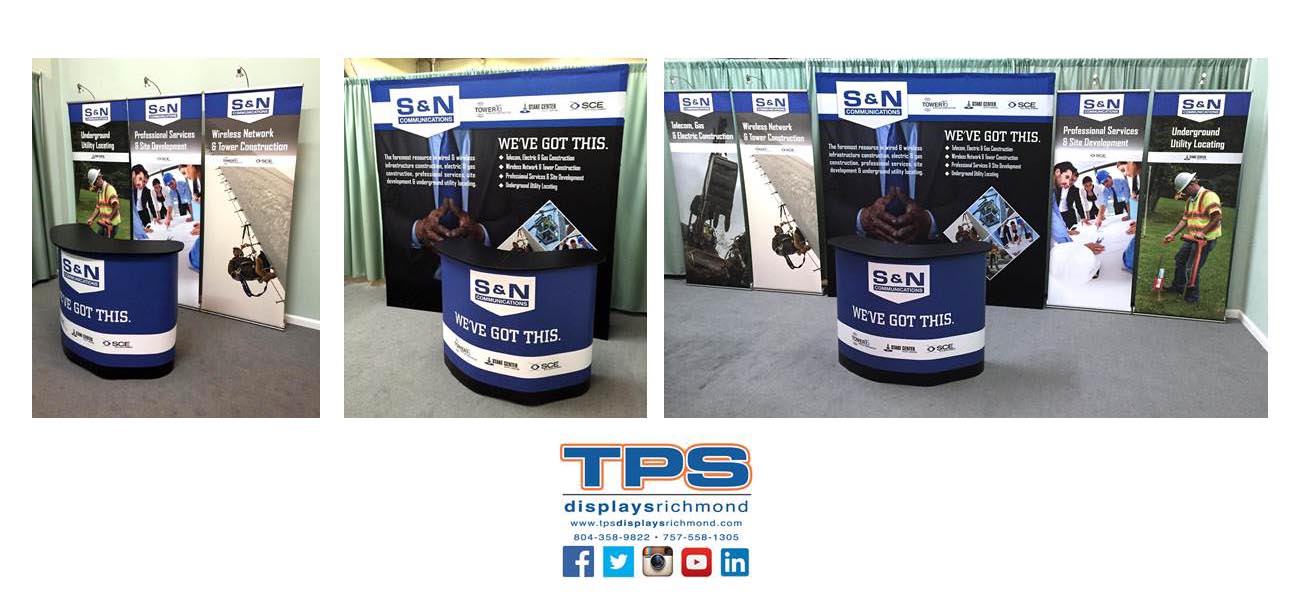 20′ Trade Show Display Kit
We recently built that great 20′ trade show display kit for a client and just had to share.  At TPS Displays Richmond we build a lot of 10′ x 20′ trade show displays, some modular that break down into smaller configurations, some tension fabric, some pop ups and some of our Dimensions line of displays.  This design was unique because the retractable banner stands needed to be used individually or as a 10ft backwall display so this client actually received 7 different display designs for the price of one moderately priced 20′ trade show display.
The banner stands used in the 20′ trade show display kit were our premium models with a lifetime hardware warranty printed on a durable vinyl.  We also included a spotlight for each banner stand with an energy LED bulb.  We then added our premium case to counter conversion to make a 10ft banner stand wall kit with large counter to make up the first 10′ trade show display.
For the next 10′ trade show display, we used 8′ x 8′ tension fabric pop up display with a full color stretch cotton graphic that stays on the frame at all times.  These displays easily set up in a couple of minutes and the display included LED lights and fit in our premium counter conversion with room to spare.  We chose the 8′ x 8′ frame over  a 8′ x 10′ model to ensure all 4 banner stands would fit in any space that was at least 18′ wide since we've all set up a trade show display only to find out we didn't exactly get the full amount of space we paid for.
As you can see, this 20′ trade show display is very unique and the most versatile piece of the solution may be the reception counter.  We used our premium case to counter conversion that includes a high quality molded ship case with wheels that easily converts into a reception counter with a hinged black laminate top and 4 internal shelves.  The ability to actually have storage shelves on a ship case and use it as a counter is pretty unique and this ship case will fit just about any 10′ tension fabric display or tension fabric pop up display on the market.
Shipping the 20′ trade show display kit was a breeze as well.  The included premium ship case fit all the counter components and the tension fabric pop up with ease and a graphics case housed all of the banner stands and stem lights.  Shipping a 20′ trade show display in 2 ship cases that weigh less than 100 lbs combined is budget friendly and also nice when doing a local show when you transport the display in a vehicle.  This entire 20′ trade show display kit was also budget friendly coming in right around $3000.00.