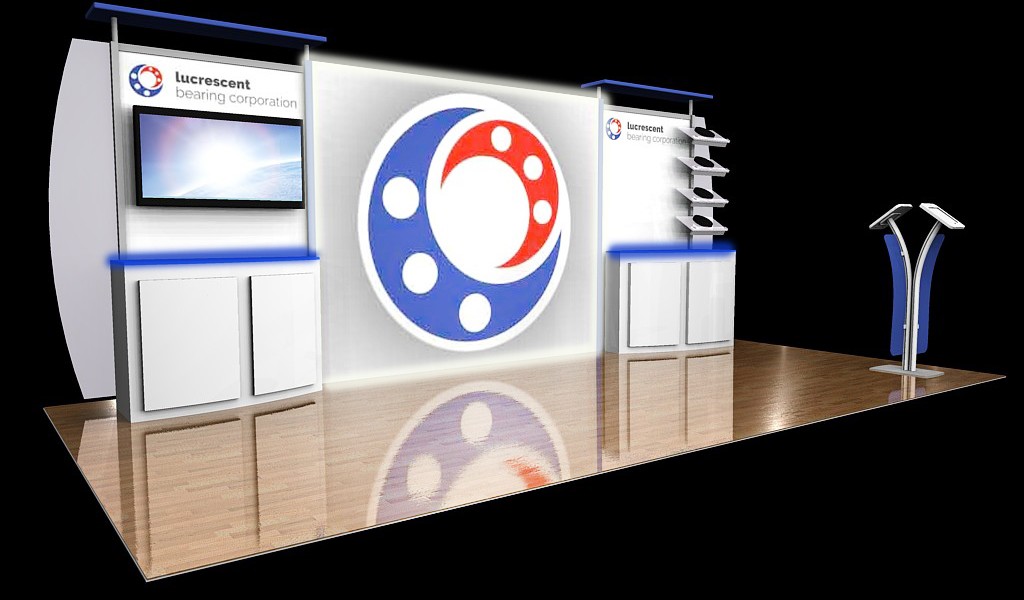 10′ x 20′ Modular Trade Show Display Design
Just wanted to share this 10′ x 20′ modular trade show display design we just turned in to production to start building.  One of the many outstanding features we're excited about is that the display is being built by Eco Systems Sustainable Exhibits.  Founded in 2007, Eco Systems produces the "greenest" trade show displays in the industry using recycled aluminum, recycled plastic bottles and FSC certified wood products.  The greatest thing about going green doesn't mean you have to look green.
One of the other modern design features of this 10′ x 20′ modular trade show display design is the center panel.  The center 10'section of the display is a lightbox with a graphic printed on a tension fabric material. Back lighting a display isn't a new concept, but a lightbox of this size is a new and rapidly growing trend drawing exhibitors and potential customers in like moths to a flame.
20′ modular trade show displays offer many custom design elements.  The twin counters on our design are built as custom units that will ship in the crate as they are built saving installation time and individual parts damage.  These custom counters even have color changing LED lights built into the tops enabling our client to change and customize the colors with a handheld remote.  Another outstanding feature on one of the custom counters is we've added 4 USB charging ports onto the side of the counter which will give our client an opportunity to allow attendees to charge their devices while they discuss their products.
Our 10′ x 20′ modular trade show display design offers the additional advantage of being reconfigured into a 10′ display for smaller shows.  The large lightbox used as the center panel on the 20′ design will now function as the entire 10′ x 10′ display.  We've also used one of the custom counters and turned it around to function as a reception counter with locking storage.  A portable double sided tablet stand is also used to engage attendees in addition to the USB charging ports on the counter.
Be sure to check back in on this project as we will post updates of the build progress and from the trade show floor.